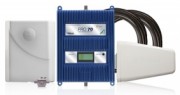 CellPhoneSignalBooster.us introduces new Wilson cell phone booster Pro 70 Series so commercial users can enjoy the best cell phone reception possible.
Houston, Texas, January 19, 2016 (Newswire.com) - ​​​​CellPhoneSignalBooster.us, an authorized reseller of Wilson Electronics, is now carrying the full line of WilsonPro commercial grade cell phone booster kits that will enable businesses, institutions, agencies and big organizations in large buildings to enjoy the most reliable cell phone reception possible.
The WilsonPro 70 Series cell phone booster is the product of years of research and development by Wilson Electronics. Intended for use in office buildings, hospitals, schools, government buildings, warehouses, industrial complexes and even very large luxury residences, the units are capable of enhancing cell phone reception across areas of up to 50,000 square feet in size, up to six times the coverage size of most cell phone signal booster products.
"Cell phone boosters can now certainly remedy poor reception in large commercial spaces of up to 50,000 square feet with a large number of simultaneous users."

Jazmin Mendoza, Spokeswoman for the company
A marketing study conducted by the Pew Internet & American Life Project found that 72 percent of all cell phone users experienced dropped calls on their cell phones at least on an occasional basis, and that nearly one-third of all cell phone users experience dropped calls many times per week. Dropped calls are naturally problematic during personal cell phone use, but when cell phones are being used in the workplace, they can greatly interfere with productivity.
"Most cell phone users think that they are at the mercy of the signal, that if a certain location is bad, that there is no remedy to the problem," says Jazmin Mendoza, spokeswoman for the company. "Cell phone boosters can most certainly remedy poor reception and we are now proud to be offering the WilsonPro 70 series for the most reliable cell phone booster to date."
Cell phone signal booster products have been developed to decrease the frequency with which dropped calls occur, and to enhance the overall cell phone usage experience; however, wireless booster products have in the past been unable to provide a wide enough coverage area to meet the needs of commercial users. The new WilsonPro 70 Series cell phone booster kits now available from CellPhoneSignalBooster.us were developed to remedy this issue.
Wilson Electronics users solve one of their most frustrating problems: dropped calls. By increasing signal strength by up to 70dB, the Wilson Pro 70 Series cell phone booster kits greatly diminish dropped calls and improve overall 2G, 3G and 4G LTE reception over wide areas up to 50,000 sq. ft. The cell phone booster kits are compatible with all major carriers in the U.S. and Canada and dramatically increase downlink and uplink speeds to allow for more simultaneous mobile users within a commercial space. The latest of these top-of-the-line models now have adjustable gain controls for each band for customized enhancement, a feature only found on the Wilson Pro 70 Plus Select.
Although the WilsonPro 70 Series cell phone booster kits are the most advanced wireless booster products of their kind, they are priced to maximize business' returns on investment. These WilsonPro kits provide comparatively low cost per square foot of coverage among other cell phone booster presently available for commercial users. These products are geared towards the resell market whereby installers can also benefit from the WilsonPro 70 Series Wilson cell phone booster kits, as they are engineered to self-optimize to allow for fast installation with little need for troubleshooting.
The entire range of WilsonPro 70 Series wireless booster kits is now available for order directly by calling 1 (800) 501-3153. More information about the Wilson cell phone signal booster products can be obtained at the CellPhoneSignalBooster.us website.
About CellPhoneSignalBooster.us
CellPhoneSignalBooster.us is an authorized reseller of Wilson Electronics products that help individuals and businesses use their mobile devices more effectively. Owned by Accessory Fulfillment Center LLC, also known as AFC-Houston / AFC-LLC providing cell phone accessory fulfillment services, its signal booster online store carries a wide range of cell phone signal boosters for residential and commercial use with products available for enhancing the use of tablets and smartphones from all manufacturers and on all carriers. Based in Houston, Texas, it only carries products that have been proven effective and that carry approval by the FCC in U.S. and IC in Canada. The site's dedicated team of customer service experts is committed to providing first-rate support for consumer clients, commercial customers and installers alike.
Contact Information
Jazmin Mendoza
press@cellphonesignalbooster.us
(800) 501-3153

###
Share: